Website Affiliate Marketing Terms and Policies
1. Registration: In order to become an affiliate program member of the Basengreen website, you must complete the registration process and agree to the following terms and conditions.
2. Commission Structure: As an Affiliate, you will earn commissions from each successful referral through your exclusive link. Commission rates are determined by the Basengreen website and may vary depending on the product or service being promoted.
Affiliate Levels: Upon signing up, Affiliates will start at Level 1 (LV1). As members accumulate referral sales through their unique affiliate links, they can be promoted to higher levels based on the total purchase amount generated.
Commission Rates: Commission rates are tiered based on the level an affiliate achieves. The commission rates for each level are as follows:
● - LV1: 1% commission on referral sales (total cumulative purchases: ≤ $10,000)
● - LV2: 3% commission on referral sales (total cumulative purchases: $10,000 ≥ $200,000)
● - LV3: 5% commission on referrals (total cumulative purchases: >$200,000)
3. Payment Terms: Commissions will be paid on a monthly basis with a billing date of the 20th of each month. To qualify for payment, your cumulative earnings must exceed $50.
4. Payment Methods: Basengreen offers other agreed methods of payment such as bank transfer. Please ensure that you provide accurate payment details during the registration process.
5. Reporting and Tracking: The Basengreen website will provide you with a tracking service, whereby when an order is completed through your referral, a commission email will be sent to your email address and you will be able to see the current commission in your account.
6. Referral Restrictions: You are prohibited from engaging in any fraudulent or unethical behavior in order to receive referrals. Violation of this policy may result in termination of your affiliate account and forfeiture of any pending commissions.
7. Termination: Basengreen reserves the right to terminate the Affiliate relationship at any time for any reason. Termination may result in forfeiture of any pending commissions.
8. Modification of Terms: Basengreen reserves the right to modify these terms and conditions at any time. Affiliates will be notified of any changes and it is their responsibility to review and comply with the updated terms.
By signing up as an Affiliate Marketer with Basengreen Website, you acknowledge that you have read, understood and agree to these Terms and Conditions. Let's build a successful affiliate marketing partnership for mutual growth and success.
Collaboration Tutorial
1. Log in to your account
2. Enter your account background, click Edit your affiliate information, fill in the relevant collection information to save!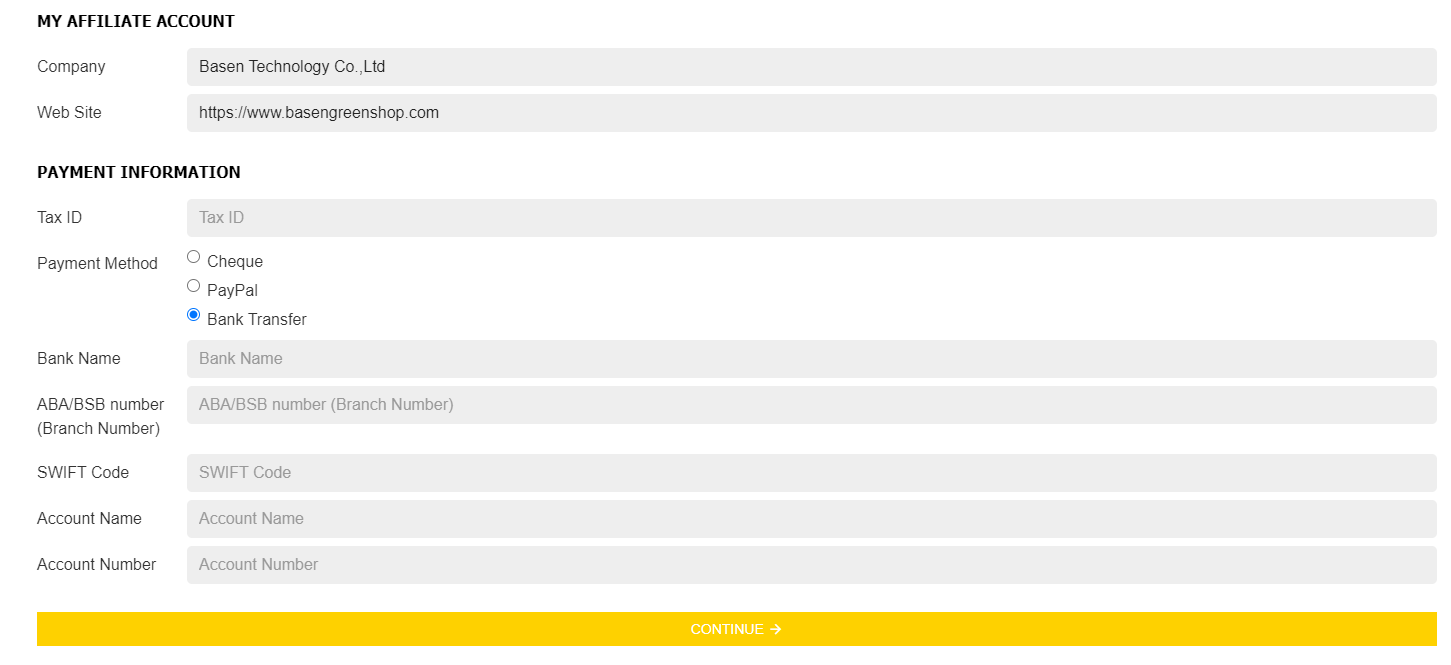 3.Click Custom Affiliate Tracking Code, select the product you want to promote, after selecting the corresponding tracking link will be generated, as long as someone pays for the order through this link, that is, you recommend the customer, you can get the corresponding commission!